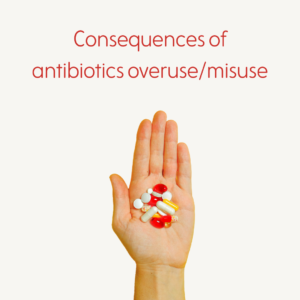 Most people tend to rely on antibiotics every time they cough or have a runny nose or feel ill for any reason, not knowing that antibiotics are not ideal for every situation and cannot resolve all health issues and can even make their symptoms worse which eventually threatens the usefulness of these important drugs. Therefore, Antibiotics aren't always the answer when you're sick.
Antibiotics are vital medications for treating bacterial infections and reducing severe disease complications.  Nonetheless, antibiotic misuse and overuse have resulted in increasing the number of medication-resistant germs. When an antibiotic loses its effectiveness against a particular strain of bacteria, the bacteria are considered to be antibiotic-resistant, That means the germs are not killed and continue to grow, which is one of the world's most serious health issues. Antibiotic resistance can affect any person, at any stage of life. People receiving health care or those with weakened immune systems are often at higher risk for getting an infection.
What causes antibiotic resistance?
Antibiotic overuse
Taking antibiotics when they are not required and taking them on a regular basis whenever we felt ill without consulting a doctor.
Antibiotic misuse
Antibiotics only treat bacterial infections; and do not treat viral infections, such as the common cold.
When you take an antibiotic for a viral infection, the antibiotic targets bacteria in your body that are either beneficial or, at the very least, may not cause disease. This misguided treatment can develop antibiotic-resistant properties in harmless bacteria that can be transmitted onto other bacteria, or it may allow potentially harmful bacteria to replace the beneficial ones.
Taking and abusing antibiotics when they are not required:
Won't keep others from getting infected.
May cause unpleasant or negative side effects.
Can harm the good bacteria that your body needs.
Promotes antibiotic resistance
Consequences of antibiotic resistance infections
Antibiotic resistance is one of the greatest public health challenges of our time—few treatment options exist for people infected with antibiotic-resistant bacteria that can result in:
More-serious illness
Longer recovery
More-frequent or longer hospitalization
More doctor visits
More-expensive treatments
How to use antibiotics properly?
You can help preventing the development of antibiotic resistance by:
Never ask your doctor to write you an antibiotic prescription when he advises otherwise. Consult your doctor for treatment options.
Maintain good hygiene in order to avoid bacterial infections that require antibiotic treatment.
Ensure that you and your children receive all of the recommended vaccinations.
Food should be prepared in a sanitary manner to prevent foodborne bacterial infection.
Only take antibiotics as directed by your doctor. Take the daily dose as instructed and finish the entire course of treatment.
Never take antibiotics prescribed for someone else.
Antibiotics should never be shared
Never use leftover antibiotics.
Remember – Antibiotics are not for every situation.