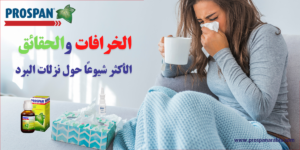 The cold & flu season is here already. When catching a cold, pieces of advice start flying in from our grandparents, parents, and friends, with the pure intention to help us ease the symptoms. We were raised hearing and applying some traditional practices, while some are really beneficial, others have been misleading to us.
In this article, we reveal the most common myths about cold and flu.
Myth #1: You can catch a cold by not wearing a jacket in chilly weather or going out with wet hair.
Fact: The only way to catch the flu is by being exposed to the virus. Colds are caused by more than 200 different viruses and strains—not by getting chilled. It's true that most colds occur during fall and winter. That's usually because people spend more time indoors, which brings them in close contact with others who may be carrying viruses. Some cold viruses also thrive when humidity is low, as it often is during the cooler months.
Myth #2: Feed a cold, starve a fever.
Fact: Never starve yourself! Your body needs good nutrition to function and recover at its best, so if you're hungry, eat, If you have lost your appetite remain on fluids. Most importantly, Staying well hydrated is essential for any type of infection.
Myth #3: Antibiotics are the cure for cold and flu.
Fact: Antibiotics are only suitable for the treatment of bacterial infections but aren't effective for a viral infection like the flu. Shockingly, In this case, antibiotics may worsen cold and flu symptoms.
Myth #4: Chicken soup will speed your recovery from the flu.
Fact: Hot liquids can soothe a sore throat and keep you hydrated. Yet, eating chicken soup won't make the flu vanish away.
Myth #5: The flu vaccine will make you more prone to cold and flu.
Fact: Not true. The flu shot is made from an inactivated virus that can't transmit infection. Keeping in mind that it takes a week or two to get protection from the vaccine. Some may experience sore throat and a mild fever as symptoms from taking a vaccine yet it's not the flu.
Myth #6: vitamin C and zinc help protect you from colds.
Fact: We know that being deficient in vitamins and minerals can harm your immune system, but there's no proof that taking extra doses of vitamin C and Zinc will help. So control your dosage based on your need.
This how medical myths can get in the way of good medical care. When it's flu season, take the necessary steps to stay healthy. Stay hydrated, and if encountered with the flu or cold take Prospan to relieve you from cough and Nisita nasal spray to ease your congestion symptoms.