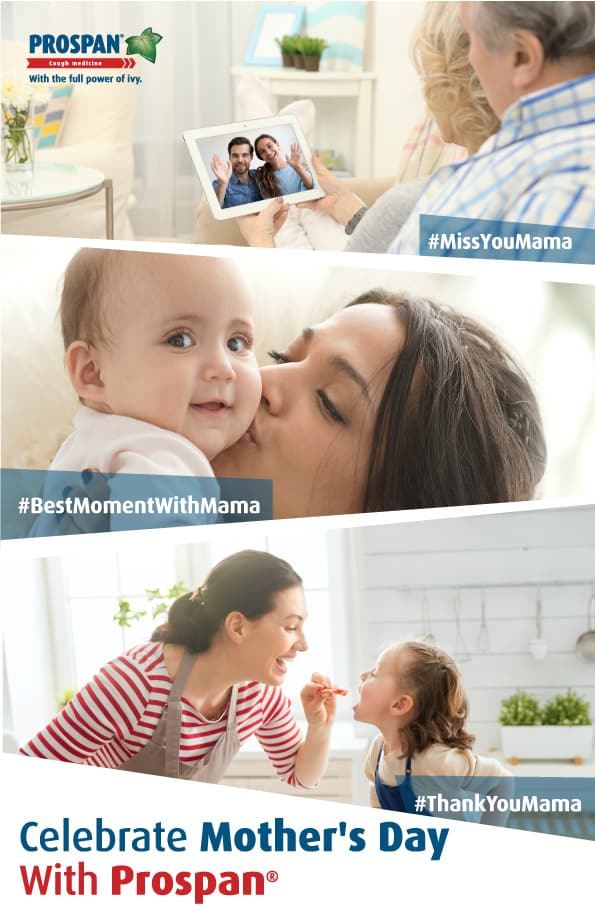 Celebrate Mother's Day this year with an exciting and extraordinary competition from Prospan®!
Whether you are a daughter, son, mother, or soon-to-be mama, join us by sharing heartfelt messages of gratitude and love for our mothers on Mother's day and get a chance to win a grand prize.
To enter the competition, share your messages in the form you prefer, like a text, picture, video, or a handmade card. Use the hashtags below to convey your message, and share your entry with Prospan® by posting it on Prospan®'s page!
Mother's Day Competition Hashtags:
1- #ThankYouMama
How would you like to thank your mother? Show your gratitude for her unconditional love and efforts by adding #ThankYouMama to your entry.
2- #MissYouMama
Share what you miss the most while living far away from your mother by adding #MissYouMama to your entry.
3- #BestMomentWithMama
What is your favorite memory with your mother? Reminisce and share your favorite memories by adding #BestMomentWithMama to your entry.
After sharing your entry, make sure to get your family and friends to like your post!
The entry with the highest number of likes wins a flight ticket to visit their mother, or have their mother visit them! (Prize cap is 500 USD).
Join Prospan® in the competition, and have an extraordinary Mother's Day!

Terms and Conditions:
Participation in the competition is permitted by citizens and residents of the following countries only: Jordan, Lebanon, Palestine, Iraq, Saudi Arabia, Bahrain, Qatar, Kuwait and the United Arab Emirates.
This competition is valid until 21/03/2020.
All accounts participating in the contest must be real, and in accordance with the name of the identity card.
The participants must be at least 14 years old.
Engelhard has the right to exclude any participant for any appropriate
No Engelhard Arzneimittel employees or Engelhard Arzneimittel agents or distributors or members of their immediate families can participate in the competition.
There will be one winner in the competition, as the prize will be an air ticket or its equivalence where the value does not exceed 500 USD.
Each participant is entitled to participate in the competition only once.
The winners will be announced one week after the competition announcement date.
Engelhard Arzneimittel is not responsible for issuing any country visas.
By agreeing to the terms and conditions, Engelhard Arzneimittel Corporation has the right to use the personal information of the participants as it deems appropriate, and by agreeing to the laws and provisions of the participation conditions means agreeing to receive marketing materials.
The ownership of the contest entries (Comments, pictures or videos) and the image of receiving the award will be transferred to Engelhard company upon accepting the terms and conditions for participating in the competition.
Engelhard Arzneimittel reserves the right to use the above submissions and receipt images for marketing purposes as it deems appropriate.