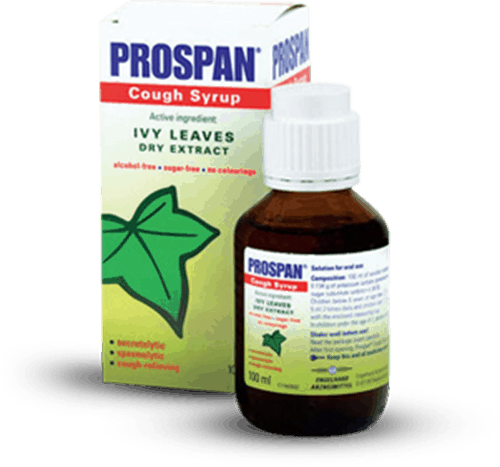 The website www.prospanarabia.com provides general information about the product offered.
The content of these pages, except where indicated otherwise, is the intellectual property of Engelhard Arzneimittel GmbH & Co. KG and protected by copyright. It may not be reproduced or otherwise used for commercial purposes without the authorisation of the company.
The website provides only general information about the products and illnesses. No advice, medical or otherwise, is given. The information is not a substitute for consultation with a doctor or a pharmacist. Please note that you should not make diagnoses or initiate therapies based on the information which appears on this website.
If you want to take or use a preparation listed here, please read through the package leaflet carefully beforehand.
Where product information is provided, the indications listed regarding the use of the preparations may vary from country to country. The products may also appear under another trade name in other countries. For this reason, always consult a doctor or a pharmacist before you use a preparation.
The information on the internet pages complies with German law.
The content of the website can be changed, amended or deleted at any time.
Text and image copyrights
The text and image material presented on the website www.prospanarabia.com are protected by copyright. Reproduction or use of the images, graphics, sound documents, video sequences and texts in other electronic or printed publications without the written permission of Engelhard Arzneimittel GmbH & Co. KG is prohibited.
Data protection declaration
1. Recording and processing of technical data
You can use our website without disclosing your personal data. By accessing our website, data is stored on our servers for security purposes, such as the name of your internet service provider, the website from which you visit us, the websites of ours that you visit, and your IP address. In individual cases, this data can permit identification, but it is not subject to personal assessment. When data is passed on to an external service provider within the framework of processing data for an order, we have implemented technical and organisational measures to ensure that data protection regulations are observed.
2. Collection and processing of personal data
We collect personal data only if you disclose it to us, e.g. in the context of a registration, by filling out forms, or by sending emails. We will of course treat this data confidentially and use it only for the purposes for which you have disclosed your personal data (e.g. sending product information, employment application). Your personal data is not provided to third parties in any form by us or by the persons assigned by us, unless we have your consent or an official order from government authorities on file.
3. Retention limits of the data collected
The stored personal data is deleted or blocked if you retract your consent for storage, if its knowledge is no longer necessary in order to fulfil the intended purpose for which it is stored, or if its storage is prohibited for other legal reasons.
The applicable statutory retention limits are observed.
On request, we will be glad to inform you about the personal data of yours which we have stored. The information will be provided free of charge up to twice per year.
4. Links with other websites
The website contains links to other websites. We expressly distance ourselves from all content of the linked websites.
All links from our website to other websites are a service we provide for our visitors. We are not responsible for the content of those websites and shall not be held liable for damages resulting from that content.
We thank you for visiting our website. If you have questions or suggestions, please feel free to contact us.
"Google Analytics" privacy statement
This website uses Google Analytics, a web analysis service of Google Inc. ("Google").  Google Analytics uses cookies, i.e. text files which are stored on your computer and enable the analysis of your use of the website. As a rule, the information which the cookie generates concerning your use of this website is transmitted to a server of Google in the USA and stored there.
If IP anonymisation is activated on this website, however, Google will first truncate your IP address within the Member States of the European Union or in other States that are parties to the European Economic Area (EEA) Agreement. Only in exceptional cases will the full IP address be transmitted to a server of Google in the USA and truncated there. Under contract for the operator of this website, Google will use that information in order to evaluate your use of the website, in order to compile reports on website activities, and in order to furnish additional services to the website operator in connection with the use of the website and with the use of the internet. The IP address transmitted from your browser in the context of Google Analytics will not be combined with other data of Google. You can use the relevant setting in your browser software to prevent the storage of the cookies; however, you are advised that not all of the functions of this website can be used in their entirety in that case. Furthermore, in order to prevent Google from recording the cookie-generated data related to your use of the website (including your IP address) and to prevent Google from processing the data, you can download and install the browser plug-in from the following link. The current link is:http://tools.google.com/dlpage/gaoptout?hl=en. In view of the debate concerning the use of analytical tools with complete IP addresses, we would like to point out that this website uses Google Analytics with the extension "_anonymizeIp()", and therefore only truncated IP addresses are processed, in order to exclude the possibility of any direct personal references.