For a healthier, happier life, quit smoking now!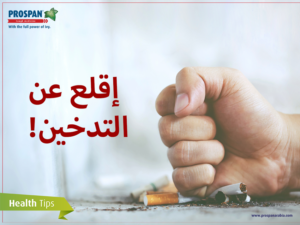 The holy month is approaching, so let's start thinking about all the things we want to change in our lives, and the best habits we would like to adopt.
In Ramadan, We spend all the day time without smoking, which means we are halfway towards a smoking-free day. Therefore, we encourage you to stop this harmful habit in Ramadan, as it is the best time to do so, as our minds enter into a state of refraining from doing so for long hours till the iftar time. Which needs us to be more committed to this challenge for a few more hours until bedtime.
Smoking is not only harmful to your health, but it also works to increase stress levels and anxiety in smokers, contrary to what many think. In addition to negatively affecting many parts of the body and its functions, by increasing the risk of developing respiratory diseases and various types of cancers, heart attacks, strokes, etc., smoking may also make smokers more vulnerable to depression in the long run. In addition, smoking affects the physical attributes of smokers, as it causes changes in the color of the skin, nails, and teeth.
Many people are afraid to quit smoking because of the difficult symptoms that accompany it, which is very similar to withdrawal symptoms. But the equation is much simpler and easier than you think, a few months of persistence and determination will equate to countless years of health, good mood and active life. These few months will increase the years of our lives, as the life of non-smokers is usually longer than the life of smokers by 10 to 15 years. The sooner we quit smoking, the sooner our organs will recover and the better mental clearance, the happier we will be. The holy month is the best time to do so. Are you ready for this challenge ?!
Now, how do we get started? First, we have to develop and follow a strategy or plan. To determine the day we will quit smoking, we are working to get rid of the cigarette packs in the home, car, and office. It should not be kept in our sight, to avoid hesitation around it. We also advise you to inform your families, friends, and colleagues about your decision, to receive all possible encouragement and support. If you feel the need for more support, you can consult a doctor or a specialist and get the required advice from him/her. You can also use products designed to help smokers quit smoking.
We wish you a Ramadan full of giving and smoke-free life!